Case Study - I'm a Researcher... Get me Out of Here
5 October 2017
Public Engagement - case study
In the run-up to the Curiosity Carnival, Priyanka Dhopade from the Department of Engineering Science took part in the I'm a Researcher... online activity and was voted winner by the students. 
I'm a Researcher... was a discipline-wide version of the popular I'm a Scientist and I'm an Engineer online activities that was commissioned especially to support the Curiosity Carnival. 
The Curiosity Zone of I'm a Researcher connected secondary school students in Oxfordshire with a range of researchers from the University of Oxford and Oxford Brookes University.
There was an archaeologist looking at the DNA in chicken bones to see how ancient people travelled, a sociologist interviewing families about moving to huge cities in China, a psychologist figuring out why people love to take part in rituals, an engineer working out how to stop jet engines melting, a medical ethics researcher asking whether you own your own body… and loads more! See all 22 researchers here.
Students got to challenge the researchers over fast-paced online text-based live chats. They asked them anything they want, and voted for their favourite - to decide the last five to compete in the final at the Curiosity Carnival itself. The I'm a Researcher event widened engagement with the Curiosity Carnival taking place for European Researchers Night on the 29th of September. Students had the chance to attend the Curiosity Carnival at the University of Oxford and meet the researchers in person; many of whom took part in the living library.
Below she writes to thank the students and describes her experience:
Hi everyone!
Having participated in I'm an Engineer a couple of years ago, I had a fantastic experience chatting to students about engineering.  So when I was approached to participate in I'm a Researcher, Get Me Out of Here! for Curiosity Carnival, I didn't hesitate at all to reply "Yes!".
The live chats really are a great platform for students across various subjects and personality types to fearlessly ask questions that they may hesitate to ask in person. Combined with the enthusiastic and efficient moderators, the live chats were a frenzy of interesting questions (thank you, students!)
What I did not expect was how much I'd learn from the other researchers, whose expertise was way out of my area of knowledge! From neuroscience, to philosophy, to anthropology and psychology, I was blown away by the level of expertise, enthusiasm and concise communication that the other researchers brought to the event.
The Live final was pretty nerve-wracking, I must admit – I was very nervous at the beginning. But the audience's appreciation and interest in our subjects, their insightful questions and the other researchers' friendly and relaxed demeanour quickly helped me to get into the "zone".
The Live final was like nothing I'd ever done before, and I'm so glad I got the opportunity to participate and donate the winnings to the charity of my choice (Women's Engineering Society). It actually made me more enthusiastic about my own research (pretty convenient for writing my current grant proposal) and STEM outreach, having seen the demand and appreciation for it.
Thank you to the European Commission for funding the European Researchers' Night and I'm a Researcher.
Hope to see and participate in more of these types of events in the future.
Best wishes
Priyanka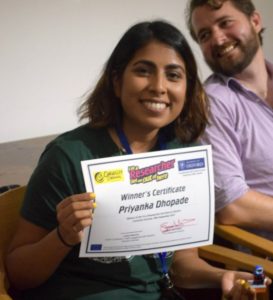 I'm a Scientist and I'm an Engineer run every year, so if you're interested keep an eye on the websites:
What to read next
I'm a Scientist... is an online public engagement activity that gets scientists from across the UK talking to school children. There's also a version for engineers.